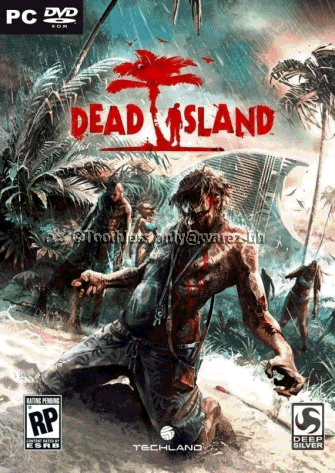 Toothless in-game YouTube Video:
Code:
http://www.youtube.com/watch?v=FarBCS2A5xM
Visit my YouTube Channel, 100% gaming video's:
Code:
http://www.youtube.com/user/Toothless010
**I put a lot of work into my screen shots, I dont approve you
to copy/paste my work without asking. I hope others that
enjoy my game topics will agree
***
Dead Island – PC Game
Publisher:Deep Silver
Developer:Techland
Genre:Horror Action Adventure
Release Date:Sep 6, 2011(more)
ESRB:MATURE
ESRB Descriptors:Blood and Gore, Drug Reference, Intense
Violence, Strong Language, Use of Alcohol, Sexual Themes.
Visit the official web site at:
Code:
http://www.deadislandgame.com
MSRP: $59.99 or…..$0.00 with pirate discount
Languages: English and more languages to confirm
5.731 GB ISO Image
5.46 GB when mounted
Game install is 6.52GB
Game installed on my Windows7/64bit/Home Premium
I quote:
Quote:
NOTE: For all who ask questions in comments, here's somes
answers :
– Game is MULTi5 , in the /crack folder, there's a language.txt file,
just edit it with the desired language
– Game is not dev' build from Steam, it's retail/final Steam game, as f
ar i know, RLD was always very strong to decrypt/crack Steam
games.
Game Info

A schlocky, gruesomely fun action role-playing game waits you
on Dead Island. Bring three friends.
The island of Banoi is a lush, tropical paradise in the South Pacific where
its flagship Royal Palms Resort serves as the ultimate getaway for
vacationers with money to burn. However, all good things must soon
come to an end – and the picturesque resort falls into madness, carnage
and chaos after a mysterious and contagious zombie outbreak claims
its once peaceful atmosphere. Cut off from the rest of the world, only
four individuals who strangely find themselves immune to zombification
have the power to protect the remaining survivors from the horrors of
the island, to discover what's really going on and find a way to escape
before their own fatal ends.
Game Features
•In keeping with an atmosphere of desperation and survival by any
means, Dead Island focuses on serious, first-person action gameplay
with a close-quarter, immersive melee focus.
•Dead Island's seamless 4 player co-op multiplayer seeks to provide
the most immersive multiplayer experience to date. Players can drop in
and out of each other's games at any time with no loss of progress as
well as the ability to continue on alone or with others.
•With thousands of weapons in-game to collect, from simple wooden
bats to fire-axes to heavy rifles, Dead Island is a collector's dream.
This in combination with Dead Island's weapon customization system will
enable the player to craft the ultimate weapon to ensure their survival.
•The ability to enhance and develop your character using RPG-like
elements including an XP/leveling system and un-lockable skill trees
put the power in your hands to create and play a unique protagonist.
•Dead Island's damage system gives an unprecedented visual detail of
the effects of each attack on enemies pushing the boundaries of
visualized gore.
•With an open-world setting, Banoi is filled to the brim with things to
do and objectives to tackle, allowing a fresh way to advance both the
characters and story at the same time and providing for endless replay
value.
Minimum System Requirement
• OS: Windows XP
• Processo Core2Duo clocked at 2.66 GHz
• Memory: 1 GB
• Video: ATI 2600XT with 512MB VRAM (GeForce 8600GT)
• DirectX ®: DirectX 9.0C
• Hard Drive: 7 GB free disk space
[TUT] How to download using Safelinking.net at warez-bb.org
Code:
http://www.warez-bb.org/viewtopic.php?t=7359859
MU 1GB links interchangable with File Serve/Rapid Share 1GB
5.7 GB ISO Image. 1GB/6 Downloads
Language: English,
5% Winrar Recovery Record included in downloads

Code:
http://safelinking.net/p/041fa387bd
password: tooth
File Serve 1GB links interchangable with MU/Rapid Share 1GB
5.7 GB ISO Image. 1GB/6 Downloads
Language: English,
5% Winrar Recovery Record included in downloads

Code:
http://safelinking.net/p/dc176dc381
password: tooth
Rapid Share 1GB links interchangable with MU/File Serve 1GB
5.7 GB ISO Image. 1GB/6 Downloads
Language: English,
5% Winrar Recovery Record included in downloads

Code:
http://safelinking.net/p/2124a4cb4c
password: tooth
Check the files your downloaded……….
Quote:
Got Problem Files ??? We got the fix for corrupt files!
1. Within Winrar, run "test archive" to check your files.
2. If you have a problem file, run winrar "repair". Then test again.
3. Re-Download the file again usually fixes the corrupt file.
Still have a problem download?
4. MD5 Hash Value – HashTab provides an easy way to verify file integrity and authenticity.
To check your download with the original uploaded file, compare the MD5 Hash Value.

Code:
google HashTab v4.0.0 Setup.zip or download here: http://implbits.com/HashTab.aspx

-Small file. Add to your system. How it works:
1- after install, right click properties of the file.
2- go to Hash Tab/File Hashes tab
3- program generates a unique number (MD5) to identify a specific file.
-if your number does not match mine, that would be the problem file. You
would need to re-download the file again and that usually fixes the problem.
-This is quite simple to do and we can identity the specific problem file.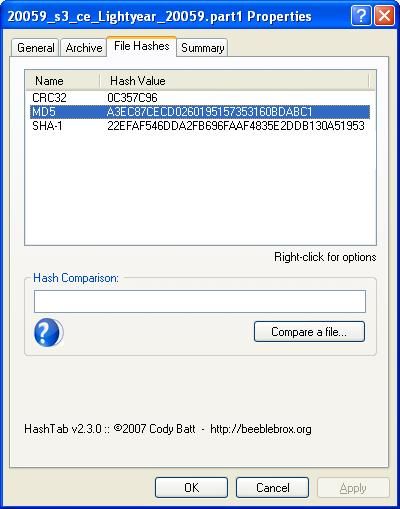 MD5 Hash Value-1GB parts – Dead Island
part 01-D861D63F20FD6CA5876238200790BC1F
part 02-85341B79E2C32D41FAA66874FC50F372
part 03-36B0D7CFBD35495734DAACFD349A79D4
part 04-B9E121A3976C6C06C413ECFBF2383E21
part 05-6BCFFCFFB6D8626E6067F92075613507
part 06-D5093B1CF7CFDDA663733870E2654765
ISO image-
CRC32: 3DA782A8
MD5: B9F7C6CCA3A01D92668313B03B1C9D9D
SHA-1: 00447BB30325C74DFA1E898B81971ACC640A750E
Quote:
About the crack files I post in my topic:
I dont make, alter, or modify original crack files. I only post
cracks from well known cracking groups. ALL game topics I upload,
I test out the game with original crack files and launch the game.
I scan the orignal crack files with McAfee AV at a minimum. If you
are not comfortable with cracking groups altering the binary file,
then dont download. What I post is NOT "tooth's" cracks.
Update 3 crack for MP/LAN (I have not tested, yet)
You also need the RELOADED orignal crack files first.
if you want to continue you previous save you must not replace
"Steam_api.dll & steam_api.txt" Copy & extract all the content
but those too and game works perfectly and you can continue
you last save

Code:
0906_di_update3.rar (67.18 MB)
http://www.megaupload.com/?d=HO1FM7SD
password: tooth
Code:
http://www.fileserve.com/file/UEqJAEv/0906_di_update3.rar
password: tooth
Quote:
1. Install the game
2. Install Steam
3. Download SmartSteam
4. Download Update+Coop Fix and extract it to DeadIsland
5. Install Tunngle, make account and join to deadIsland network
6. Run SmartSteam from Steam folder
7. Add DeadIsland to Non-Steam Game
8. Run Dead Island
9. Play until you come to ACT1
10. Join lobby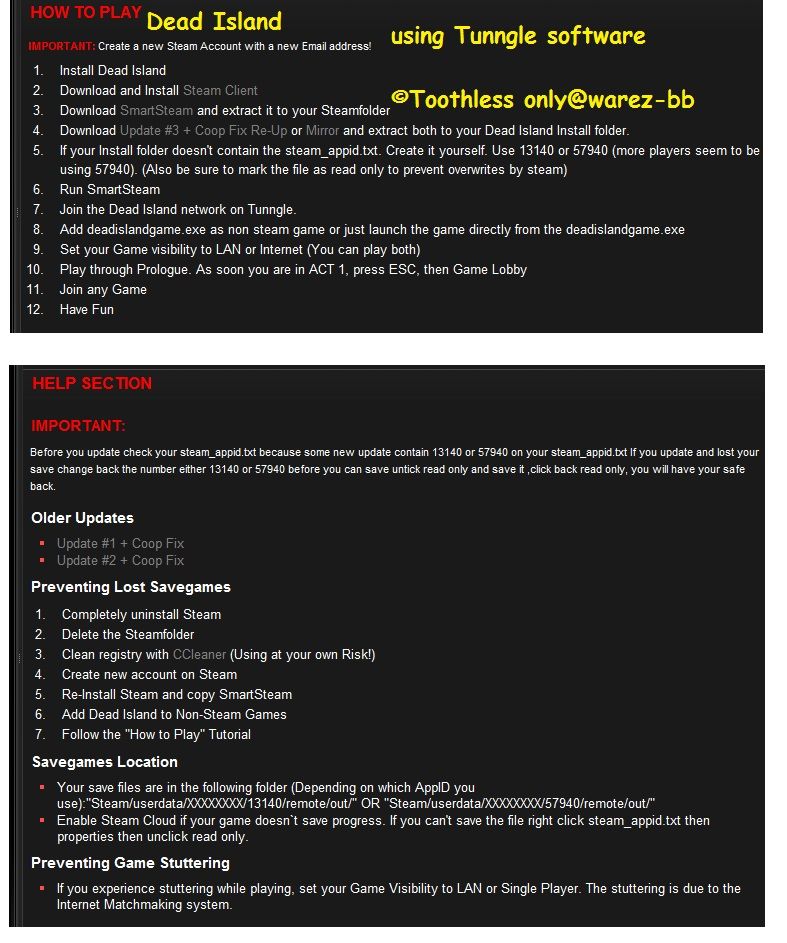 =======================================
Needed if you use update3 cracks
RELOADED crack files. – This download includes the original and
update1 crack files in one download. See screen shot install.

Code:
http://safelinking.net/p/062afb6131
password: tooth
Code:
http://safelinking.net/p/43c29dca72
password: tooth
Tutorials – How to mount a Gaming Image and install the Game
Code:
http://www.warez-bb.org/viewtopic.php?t=2942688&
How to install:
1-download files and run winrar, click on "Commands" "Test archived files"
2-Mount ISO image on your virtual drive
3-follow screen shot install below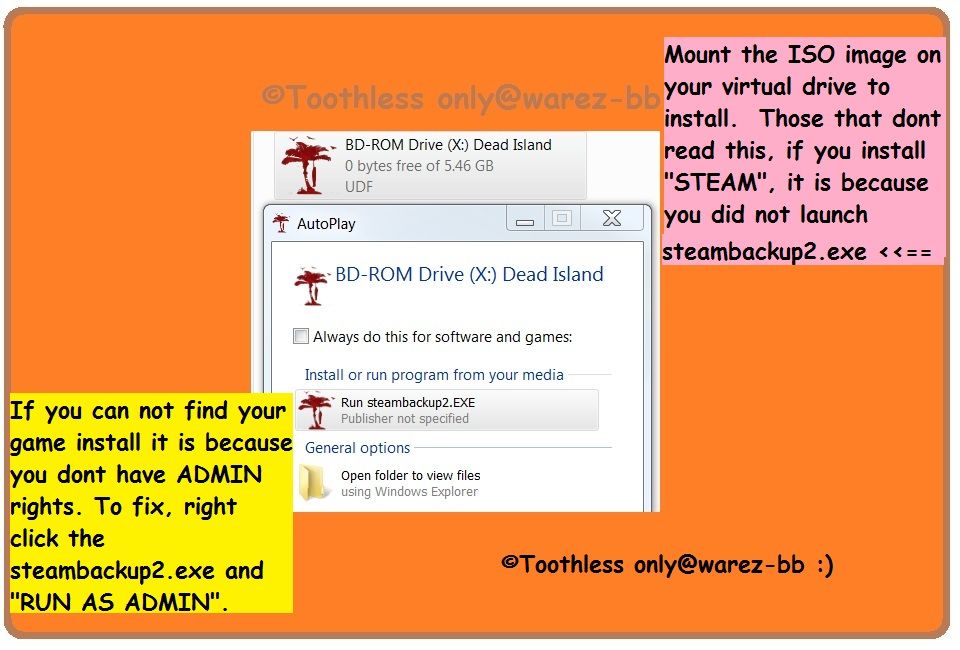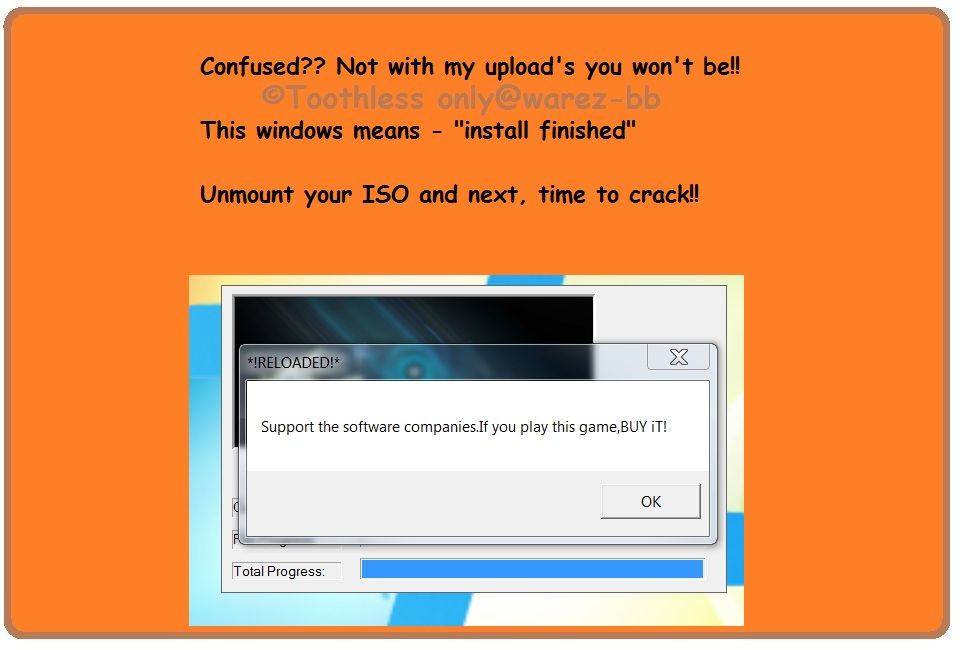 ===========================================
===========================================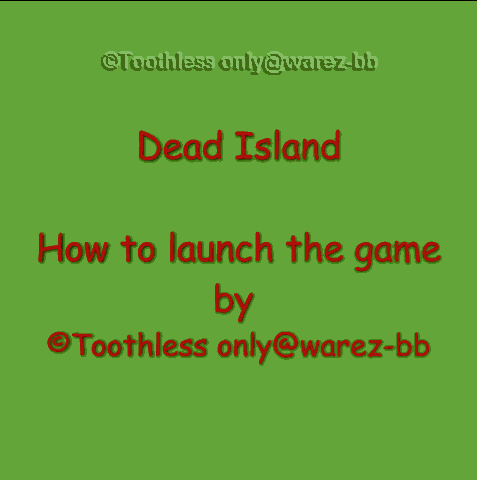 ============================================
Game Fixes
are you getting this:
Quote:
I get an error like "CRC failed in the encrypted file (wrong password ?)"!
RAR cannot distinguish a corrupt file and wrong password. If it were possible, it
would make encryption weaker. Therefore, such a message may indicate both a wrong
password and a corrupt file.
Most likely it is not a password problem, but a download that was corrupt.
Open Winrar, select "commands" drop down list , "test archived files" to find out
what file/files are giving you this error.
If you identified the problem link do one or more of the following:
1-"winrar repair" the specific file
2-RE-Download the problem link and that should fix your problem.
Toothless
darkshine wrote:
To fix the grey lobby button @ go to Deadisland folder and open the txt " steam_appid.txt " delete the numbers inside the txt and copy/past this number 57940 then save the file, right click on the txt-property and check the "read-only" and apply , with that now u are able to enter in the lobby ofc u have to finish the prologue if not it gives you a window saying finish the prologue.

For those who have problems loosing save game after updating 3.
Just copy the files from Dead Island\out , there are 2 folders inside profiles and save, copy both and past it on.

Steam\userdata\88503961\57940\remote\out

Note : the userdata number can change, if you dont have the number 88503961 dont make a folder with that number, just enter to userdata\ and open the folder that you have inside

Now you can continue your save game
Have fun !
danielt2x wrote:
Thanks again for another great game, Toothless.
I initially had the same [b]black screen problem as a couple of other people here. Here's how to fix it:

Change the compatibility settings on deadislandgame.exe (Right click->Properties->Compatibility tab) and check Disable desktop composition. That's it.
(You might consider adding this info to the main thread post, Tooth.)