dilir wrote:
Thanks Toothless
Game works perfect SP and MP
And for all the people who is having problems, take 5 minutes to read page one step by step
or hell read while you're downloading, everything you need to know it's there.
Go to the section at bottom of topic called "Game Issues"
Thanks again Toothless
Splinter Cell Conviction
Year: 2010
Genre: Action & Adventure
Developer & Publisher: Ubisoft Montreal & Ubisoft Entertainment
Developer: Ubisoft Montreal
Publisher: Ubisoft Entertainment
Platform: PC
Language: MULTI9
Language: English/Danish/Dutch/French/German/Italian/
Norwegian/Spanish/Swedish
1GB File Share links, 9 Downloads
1GB MU links, 9 Downloads
1GB RS links, 9 Downloads
Full version
ISO Image 8.1GB
ISO Image 7.72GB when mounted
Game install to hard drive is 6.98GB
Game installed on Windows 7 Professional 32bit
Game Info
An investigation into his daughter's death unwittingly leads former agent Sam Fisher
to discover he's been betrayed by his prior agency, the Third Echelon. Now a renegade,
Fisher finds himself in a race against time to thwart a deadly terrorist plot that
threatens millions.
Uniting revolutionary gameplay enhancements with a high-octane, no-holds-barred
storyline, Tom Clancy's Splinter Cell Conviction arms you to the teeth with all the
high-tech weaponry and lethal skills of an elite operative and invites
you to enter a dangerous world where justice means making your own rules.
Game Features
•NEW LEVEL OF ACTION FOR SPLINTER CELL A full arsenal of cutting-edge
innovations allow you to outflank foes with the Last Known Position™ system, tag and eliminate
enemies using the Mark and Execute™ feature, and much more.
•BLOCKBUSTER EXPERIENCE A unique storytelling style keeps you on the
edge of your seat as you navigate the explosive world of a renegade agent where trust is
impossible and justice requires you to go above the law.
•JAW DROPPING VISUALS A revolutionary new graphic direction delivers
an utterly seamless gameplay experience that'll keep you totally engrossed in the story of Sam Fisher.
•EXPLOSIVE ONLINE PLAY Brand-new addictive multiplayer modes amp up
the dramatic intensity like never before.
Minimum System Requirement
[*] Operating System: Windows ® XP (32/64 bit), Windows Vista (32/64 bit), Windows 7 (32/64 bit),
[*] Processor: Intel Core ® 2 Duo 1.8 GHz or AMD Athlon X2 1964 2.4 GHz
[*] RAM: 1.5 GB (Windows XP) / 2 GB (Windows Vista – Windows 7)
[*] Video Card: 256MB video RAM, DirectX ® 9.0c, NVIDIA Geforce 7800 / ATI X1800
(512 MB video RAM, DirectX 9.0c, NVIDIA 8800 GS / ATI HD4670 recommended)
[*] Free space on hard disk: 10 GB
[TUT] How to download using Safelinking.net at warez-bb.org
Code:
http://www.warez-bb.org/viewtopic.php?p=40349685#40349685
1GB links-9 Links 8.1GB ISO, interchangable with FS Links
Languages: English/Danish/Dutch/French/German/Italian/
Norwegian/Spanish/Swedish

Code:
http://safelinking.net/p/03c6690c1e
password: tooth
1GB links-9 Links 8.1GB ISO- interchangable with MU Links
Languages: English/Danish/Dutch/French/German/Italian/
Norwegian/Spanish/Swedish


[codehttp://safelinking.net/p/7c2ce4f0b7
]password: tooth[/code]
Rapid Share 1GB Links/8 downloads- 8.1GB ISO
5% Winrar Recovery Record added to fix corrupt downloads.
Languages: English//Danish/Dutch/French/German/Italian/
Norwegian/Spanish/Swedish

Code:
http://safelinking.net/p/a32efd4e4d

password: tooth
Quote:
suith wrote:
just one doubt does ur MU 1 Gb links also have the recovery record in them to fix the corrupt downloads as always?
No, not this set of MU 1GB links. All i can say is I downloaded my own links and the install was just fine.
Quote:
Got Problem Files ??? We got the fix for corrupt files!
1. Within Winrar, run "test archive" to check your files.
2. If you have a problem file, run winrar "repair". Then test again.
3. Re-Download the file again usually fixes the corrupt file.
Still have a problem download?
4. MD5 Hash Value – unique file identity
To check your download with the original uploaded file, compare the MD5 Hash Value.

Code:
google hashtab2_setup.exe or download here: http://beeblebrox.org

-Small file. Add to your system. How it works:
1- after install, right click properties of the file.
2- go to Hash Tab
3- program generates a unique number (MD5) to identify a specific file.
-if your number does not match mine, that would be the problem file. You
would need to re-download the file again and that usually fixes the problem.
-This is quite simple to do and we can identity the specific problem file.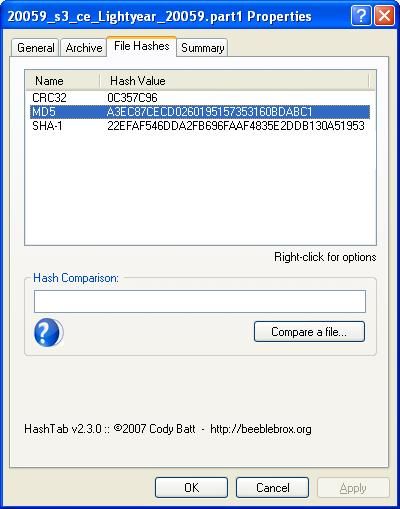 MD5 Hash Value-Splinter Cell Conviction
part 01-9FBFC35291E1DCD05B5E6D80B3C5528F
part 02-2C2F915F02CEDB5FB1E57A2411314813
part 03-DE602936432282FBBD21D84BD84CCCA0
part 04-D47265E53D992CBD4308286F9BE7F0E8
part 05-ACD9487B0BA343831DB9ED3191A8AA5B
part 06-17361640F1FCC7B843D21C72E87655AB
part 07-65831C43EB9CAA86B7707FDDCC444541
part 08-E211AC5905F0933F5EFFB149558EBEB7
part 09-30B804C7223749070181F5B4DC0A244B
ISO=C2B369359717D97CF2FD6F781BB875B9
SKIDROW SP/MP 1.03 crack and1.03 Patch

Code:
http://safelinking.net/p/06a523b909
password: tooth
Code:
http://safelinking.net/p/56e984a3ad
password: tooth
Tutorials – How to mount a Gaming Image and install the Game
Code:
http://www.warez-bb.org/viewtopic.php?t=2942688&
How to install:
***Follow the screen shot install below
***Apply the SKIDROW Crack Files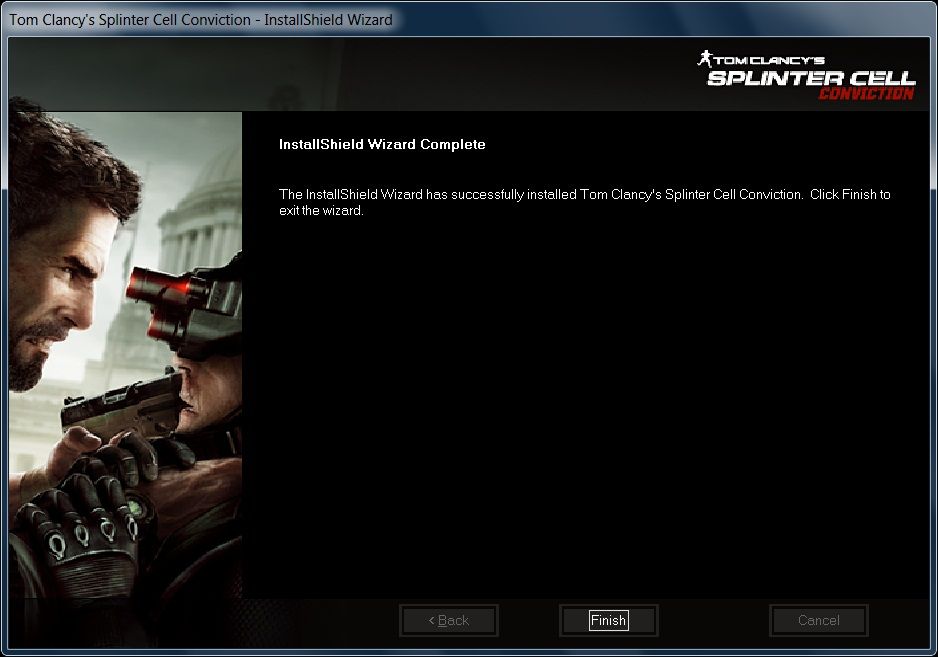 How to crack and Play Splinter Cell Conviction:
***You need to be connected to the internet***
***You do not need a "hosts" file****
***You do not need a "server quick launcher"****
***You will need the SKIDROW Crack files***
1-Download crack files, you should have a total
of 4 crack files. If you have McAfee, it will zap
the crack download. I have McAfee and I did not
scan the files. Instead I went to www.virustotal.com
and did a on-line scanner of 40 different AV's. The
results were 4 of 40, which is "ok".
2-Screen shot below, copy 4 crack files into your
"system" game install folder. CLick "yes" to replace.
3-click "PLAY" from either mounting the ISO image
to launch the game or create a desktop short cut of
your "ubisoftgamelauncher" ( I forgot the exact name, sorry)
4-After you launch, McAfee popped up wanting a file
to access the internet, I said "ACCESS". The file "conviction.exe"
NEEDS access to the internet for Multiplayer.
5-You should now be taken to the game main menu.

SINGLE PLAYER……………………………………………..
Quote:
1. Unpack the included rar files.
2. Run splinter_cell_conviction_1.03.exe and install (1.03 game patch)
3. Copy the cracked content from SKIDROW directory to your
main installation directory and overwrite. (game system folder)
4. Create a Ubi account at www.ubi.com (Dont forget to confirm
email after creating the account).
5. Insert your newly created Username/Password info in Skidrow.ini
6. Play the Game!
P.S. Dont forget to re-edit Skidrow.ini with the username you
had before.
Note 1:
After changing ur account in the ini file your previous saves
will not be available, this is how game works and nothing to
do with our crack, different saves for different profiles, if you
restore account name to Skidrow your old saves will be there again.

note 2: if you remember the prior crack, ubiorditapi_r2.dll some
AV's treated this file as a "false/postive". You may have to
block this file from your AV settings, or turn off AV during
the install.

*Updated: MULTIPLAYER BY "TWERKER"-THANKS…………………………
Twerker wrote:
For anyone that wants to play online… I thought I would say this since no one really explains it very well.

Download Tunngle, (just google it). It is a LAN over the internet program, and it supports lots of games, not just Conviction. It's actually really cool, could play any warezed/pirated game I would imagine since it uses LAN instead of regular internet play.

So… pretty simple:
(1) download Tunngle; make a user name (takes about 30 seconds); (2) start Tunngle up and log in;
(3) join the Conviction room (games are sorted by genre, Conviction is in the Shooter->Tactical Shooter category;
(4) join the room with the most people;
(5) start Conviction_game.exe crack file and make sure you pick LAN!

If nothing shows up either create one or chat with someone in the channel in Tunngle to see who wants to play/set a game up.

BTW, for those that don't know. There is almost a whole campaign for the CO-OP multiplayer that is pretty sweet. You wouldn't be really finishing the game if you didn't play all the CO-OP missions!

Also, I haven't said it yet, THANKS TOOTH! The game is awesome and works perfect with Win7 64-bit with my Radeon 5850. It used to crash randomly and then I updated the drivers to 10.5 something and after that it worked perfect!
****I can confirm, TUNNGLE.NET does work for Multiplayer****
256 page game guide

Code:
http://safelinking.net/p/3983ad3c42
password: tooth
Code:
http://safelinking.net/p/5855394885
password: tooth
Game Issue?? Read Below
Quote:

Do this first:
– Update your nVidia and ATI video / Graphics cards to their latest
drivers.
Quote:
If you start the game and it is frozen on "Establishing Connection"
just hit cancel, wait a few minutes (or reboot if you wish) and then try
again, this is a server bandwidth issue and you just have to get "lucky"
to connect.
Quote:
f.shabir wrote:
If anyone receives the server not available
error. If you delete all Ubisoft entries from /etc/host file using
notepad. All should be right with the world
THANKS MAN!!!!!!! IT WORKED FOR ME!!!!!!!!!!
SKIDROW ROCKS!!!!! and so the toothlesss:P
Ashai Fentress wrote:
Where is this etc/host folder located?
C:\Windows\System 32\drivers\etc\hosts (windows 7 system)

Samsam26 wrote:
Delete your host file (it will create a new later)and
now it works

PLEASE READ THIS!!!!!!!! BELOW.

BowWow997 wrote:
hellohello11 wrote:
Thanks a lot tooth. The single player is working fine for me. I am thinking about playing the multiplayer and was wondering would i lose my save files if i installed the crack and made a UBI account?
Yeah you lose savegame….
Quote:
khaze wrote:
many people using AVG OR McAfee have that problem
since avg/McAfee sees the dll has a virus
You may need to turn off
your AV to install the file. It is false/postitive. I have McAfee and
turned off AV with no issues. tooth
Quote:
d0ck3r5 wrote:
guys i can´t move the .dll file to the ubi game
launcher folder because it gives me permisson error.. can u help me?
1-log on as the "admin"
2-OR…….your user does not have the rights to make changes:
3-right click the dll file
4-click on properties
5-click on Security Tab
6-in the Group or User names, highlight the current user
you are now logged on.
7-To change permissions, click "EDIT"
8-Permissions for "what your current user name is" and check
off "ALLOW" all permissions.
-Full Control-Modify-Read & execute, etc…
9-click OK!!
Toothless
Quote:
[quote="Moofhead"]When I click PLAY, it goes to a black screen for
1 second and goes back to Desktop. =(
Quote:
ATI Video card are having issues with this game. Just released is
video card drivers 10.4a Please update your system. Tooth[.quote]
ATI Hot Fix 10.4a link:

Code:
http://support.amd.com/us/kbarticles/Pages/ATI-Catalyst-10-4-a-
Hotfix.aspx

-Splinter Cell Conviction – Resolves stability issues in the game when
using a Windows 7 / Windows Vista / Windows XP based system with an:
◦ATI Radeon HD 3xxx Series of products
-Splinter Cell Conviction – Resolves performance stuttering issues when
using a Windows 7 / Windows Vista / Windows XP based system with an:
◦ATI Radeon HD 2xxx Series of products
◦ATI Radeon HD 3xxx Series of products
◦ATI Radeon HD 4xxx Series of products
◦ATI Radeon HD 5xxx Series of products
Quote:
belac035 wrote:
When I click PLAY, it goes to a black screen for
1 second and goes back to Desktop. Any solution for it…..?
If you still have black screen update video card drives. Check to see if you have ALL crack files inststall. "Some" AV's are deleting one of the crack files. Check screen shot on where to placed the crack files and how many to move over. Then check to make sure those files are now in your game install.
OR………………
You just cracked the game improperly. Check Screen shot.
If still problem, post your video card drive model number with your system Specs
IF YOU HAVE AVG Anti Virus Program READ THIS!!


Error Code 2

Quote:
BloodLore wrote:

I still get "Ubisoft Game Launcher error: Error code 2.". I feel like beating a small kitten to death right now…
Okay, found the problem. This is a problem which seem to be exclusive to AVG Free Anti-virus users on Windows 7 and Vista. Even disabling the Anti Virus didn't stop it.
The Fix is:

1. Open AVG User Interface.
2. Go to Tools -> Advanced settings -> Resident Shield -> Exceptions -> Add Path
3. Find and select both the game folder and the crack folder.
4. Apply -> OK.
5. All files should now be moveable from the crack folder to the game folder and "Error 2" should stop as well.
Thank you Tooth, for another awesome upload.
Quote:

Problem #7: What Internet ports need to be open to play Splinter Cell:
Conviction online?
If you have a router in your home network, please make sure that you have
the latest firmware installed for that device. Your router manufacturer
should be able to help you complete this update.
– In addition, the following ports will need to be open in your router or
any firewall software you may be running:
9103, 9100, 10196 (UDP outbound/inbound)
80, 3081, 3105 (TCP outbound)
22350 – 22380 (TCP inbound)
If you are unsure of how ports work, the best course of action may be to
contact your router manufacturer, system administrator or ISP for more
information.
teapots wrote:
if you get server not available there is a good chance it has to do with your internet security program/ firewall. When I first installed the game I had AVG. The game didn't work at all until I went into the setting and went to the resident shield window and included the game directory in the "excluded from" path. The game worked 100% after that. However I since then have uninstalled AVG and installed ESET. After doing so the game stilled work but the MP kept saying "server not available" I then went into ESET settings and under web access protection added the ubisoft directory into the exclusions.

anyways the game works 100% as advertised by the poster of this topic. It's also a lot of fun. Multiplayer works but can sometimes be time consuming to get a match together. I suggest we share our UBIsoft usernames with one another and add each other to friend list to get some action going.

Custom game play changes, resolution example below:
Quote:
you can change the resolution here
C:\Documents and Settings\All Users\Application Data\Ubisoft\Conviction
make sure you checked "show hidden files" in the folder option

updated frequently